Literacy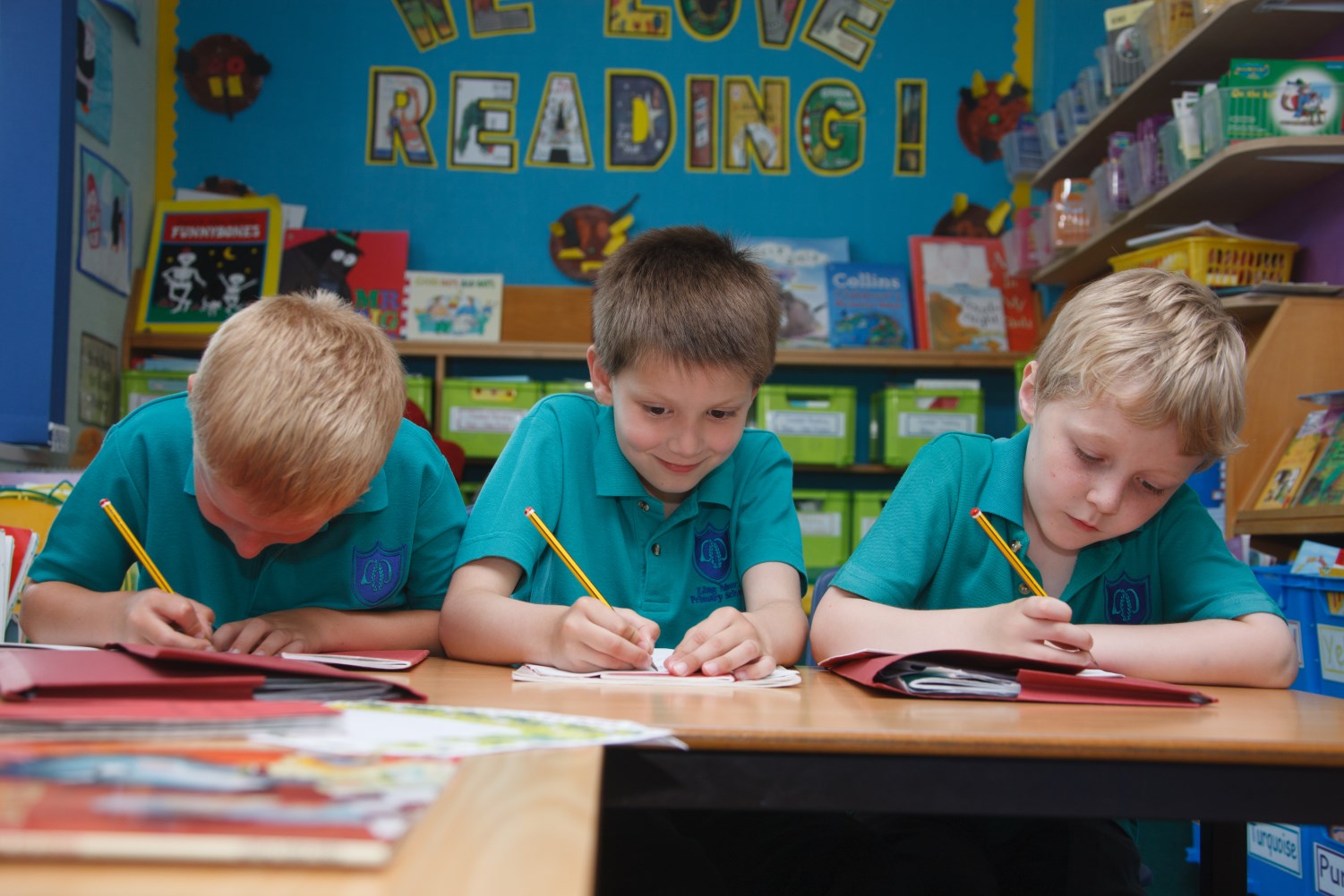 As a school, we are committed to the high quality teaching and learning of Literacy. Having good literacy skills are vital life skills to have and we believe strongly in equipping children with the necessary skills and confidence that they will need to become lifelong learners. We promote high standards of literacy by equipping pupils with a strong command of the spoken and written word and developing their love of literature through widespread reading for pleasure.
To achieve this aim we teach the programmes of study from the new National Curriculum (September 2014) which are split into:
Spoken Language;
Reading and
Writing.
We follow the Imaginative Learning Projects used in the Cornerstones curriculum as a context for teaching the fundamental skills above in the EYFS, KS1 and KS2. We also use Read Write Inc (Ruth Miskin) to teach a synthetic and rigorous phonics system as well as Big Reading (Andrell Education) and Big Writing (Andrell Education). A cursive handwriting approach is taught throughout the school and Grammar, Punctuation and Spelling lessons are also taught frequently to secure basic skills.
Regular assessments are carried out in Literacy to identify gaps in the children's learning, which can be subsequently planned for. We use the Big Writing criterion scale to assess children's writing, the Assertive Mentoring reading system to assess children's reading and the RWI assessments to assess phonics. The objectives in the Big Reading criterion scales are used to teach reading.
Imaginative Learning Projects
Each week the Imaginative Learning Project gives a specific genre / text type to focus on. Examples include: biographies, poetry, newspaper reports, persuasive letters, diaries, narratives, non-chronological reports etc.
Then over the week the essential spoken language, reading and writing skills are taught building up to a finished written piece. Eg in an Imaginative Learning Project called 'Off with her head!' to teach the Tudors, biographies of Henry VIII were written over the course of a week.
Read Write Inc
To teach early reading skills we use a synthetic phonics scheme called 'Read Write Inc.' The programme gets children reading quickly, accurately and fluently. Every child's progress is tracked through on-going assessment and children are grouped by ability, so they all learn rapidly and at the right level. Lots of partner work means that every child participates in the whole lesson. The programme develops from the 44 initial phonemes that the children need to know, which then develops into blending, segmenting and looking at graphemes for spelling.
Big Reading
To be a reader, means much more than just being able to decode a book, so when a child can decode a text, we then turn them into a real reader.
Big Reading teaches the key skills for reading with rigour - applying the reading for pleasure principle too. The key skills below are taught through: talk, collaboration and fun!
Key skills for reading
READ – phonics, sight words and other decoding strategies
R – Retrieve
E – Explore
A – Analyse
D – Deduce and Infer
Friendly characters eg Rex Retriever, Expi Explorer, Ansa Analyser and Dood Detective are used to support the teaching of the skills above.
A Big Reading session happens each week in all classes focusing on a specific reading skill, as well as daily Reading SPIES time to consolidate learning.
Big Writing
Running alongside the 'Imaginative Learning Projects' in the Cornerstones curriculum, we also teach Big Writing every week. Big Writing follows the principle – 'If a child can't say it, a child can't write it.' Therefore, Big Writing teaches children to develop their ideas, vocabulary and higher level grammatical structures needed to improve their writing almost entirely through talk.
Big Writing uses:
Vocabulary
Connectives
Openers and
Punctuation
to up level and improve children's sentence construction as well as using accurate and ongoing assessment using the criterion scales to accelerate progress.
Big Writing is highly enjoyable, motivating and impacts on all children.